write anything has been tough.

I've been in Lexington for about a month and a half, now. (Getting here was half the battle-- I'll write more about that in Part 2)...

I have to say that a lot of the wonder and romance of the city wore off in... about 48 hours after being here. When I was here in May, I stayed primarily on the borders of the city and really only saw the green rolling hills and the pastures and the trees. That's all still very pretty (especially now that it's fall and the trees are changing). But Lexington itself is small, and the "nice" part of town is not part of town I spend much time driving around in. Still--! I spend most of my day at the barn and that's the most awesome place I can think of to be, so that's really all that matters!

NARA's barn, where I spend the majority of my day, is at The Thoroughbred Center, which is a training center owned by Keeneland (speaking of, the September yearling sale is in full swing. I went on the first night and again the other day, and it was epic. More about that later!). There are about 18 horses in the school's care, and the students are all assigned one horse to take care of exclusively. We learn about things like efficiency in grooming, bathing, and saddling, how to properly apply standing bandages and poultices, hoof care, and proper maintenance of tack. My assigned horse is named Walker; he's a really gorgeous liver chestnut with high whites and a partial bald face. He's technically a pony horse (He's a registered appaloosa, as I understand it, though he has more of a typey paint body), but he goes well under racing tack.

They had me riding him for a while, but they change up the riding set list every few days so we get comfortable handling different horses.
Today, I was riding Moe. Moe is a very nice guy. All the school thoroughbreds have excellent temperaments and ground manners. They are very easy to be around, and Moe is especially easy going. He is one smart cookie-- when we work in the small arena (which at first was a small turnout paddock, and is now a little area of a bigger pasture which is roped off with caution tape), he is the laziest, most stubborn horse I think I've ever been on. He needs a lot of encouragement to get up past a slow trot, and to keep him in a canter is a ton of work.

However--!

When we were asked to trot (jog, in racing terms) once around the big pasture to warm up, he became a completely different horse. He was a beast! It was all I could do to hold him to a very quick trot, and it took all my strength to keep him from breaking into a canter. I had a really hard time keeping him from passing horses, he was hard on the bridle and he wanted to go.

But of course when we went back into the makeshift arena, he was back to lazy shuffling and I yelled and smooched and kicked until I was practically blue in the face (we aren't allowed the use of crops or whips yet; they are completely unnecessary at this point and we won't learn to employ them as a tool until much later, which I like).

We moved back out to the big field for the last part of our riding for the day, right as it started to rain. And by rain, I mean 'torrential downpour with high winds.' The reins were suddenly like they were greased, and it became difficult to keep tension them. Moe saw his opportunity as I asked him to pick up a canter ("lope" at the track)-- he threw his head up, and when he brought it down again, took the bit in his mouth and tried to take off as fast as he pleased. I got him back before he went too far, and we trotted half around before I asked him to lope again. He pulled the same stunt, except this time, he hit the bit like a freight train. I was able to keep him from hitting the rider in front of us, and didn't get run off with really, but I had virtually no control with those reins just slipping through my hands like they were buttered noodles.

I admitted to not having the confidence to ask him to canter again. I didn't feel comfortable with the lack of control that I had or my ability to keep him in check. I feel like it was a major defeat today. I do feel that, if it had been dry, I wouldn't have had so much trouble, but I don't think that means he still wouldn't have tried to run off. I can only hope tomorrow goes better. All I can do is keep telling myself that every day is getting a little easier, and that I didn't actually get run off with, and I haven't been thrown yet. Just focus on the positives and take today as a learning experience. Every -day- is a learning experience.

That's what I came here for.

If you guys have any questions about the school or the day to day routine, or other things you're curious about, ask me! I'll answer them in the next post! :3 Also, I'm thinking about making a Facebook page for gate_to_wire for little blurbs and thoughts that aren't really enough substance for a full blog post. Would anyone be interested in following there, as well?


First off, apologies to all my readers! I haven't intended to neglect this blog, but for much of August I didn't have access to the internet reliably during the move, and with school in full swing, finding a moment of downtime where I have the presence of mind to actually


Onward to Lexington, NARA, and living the dream!
Tomorrow is the day of the move. I leave Minnesota behind, and step into a new life in Lexington and beyond. I haven't meant to neglect this blog, but it has been a long, often frustrating July trying to get everything in order from three states away. I will see you all in a few weeks, and I'll update everyone on the insanity that was July then. :)
http://www.bloodhorse.com/horse-racing/articles/57506/hollywood-park-cancels-june-17-live-racing
The fact of the matter is, that even with Zenyatta's history-making race, which was put on largely to spur interest in Hollywood Park and to thank the racetrack and its fans...
...I think that in the end, it's running out of time.
This and the NYRA's constant dramas are unfortunately indicative of the state of racing in the U.S. It's not getting better by itself. :/ I only wish someone had some brilliant idea to fix it.
I LOVE YOU, GOLDIKOVA.
That is all. :)
...What is it with the run of extremely brilliant racemares we've been blessed with in the last few years? Rags, Zarkava, Zenyatta, Rachel, Goldikova, Eight Belles. . . . I feel lucky to be living in such an era.
With that being said, I think I've finally -finally- got this design worked out, after many years of working with the concept to get it just right.
I have a natural horseshoe of freckles on my right arm; I wanted to incorporate them into the design, so the horseshoe is a little off center (like they are on my arm). The colors are just blocked in-- I'm thinking it has to be in color or the roses are kind of pointless. They need to be red. For the Derby, of course. ;)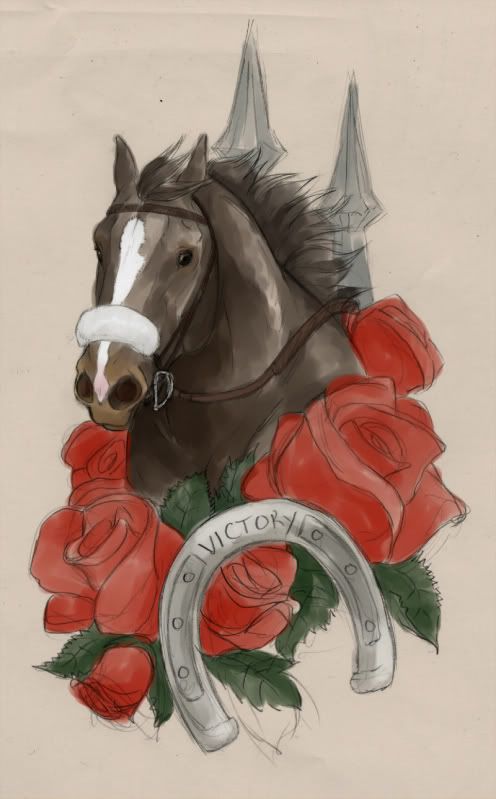 It's not something I can run out and afford right away, I am saving for moving and for school. But that's okay-- the more time I have, the more time I have to really refine this until I am completely satisfied. :)
I made myself a promise that if I got into jockey school, I would get a tattoo. As an artist, I have always wanted to design my own tattoo, but also as an artist, am something of a perfectionist and a nitpicker and am never happy with a design for more than a few days, and won't commit to putting something on my body forever that I'm not 100% happy with. It has to be very personal to me, I couldn't ever take another artist's work and stick it on my body.


What a game mare, St. Trinians-- that Martin Garcia can -ride!-; until the final few strides, I was thinking it wasn't possible, she wasn't going to close that distance-- and then magically she flew ahead at the last second, and there it was. I haven't heard a more passionate race-call in a long time (ironically, there are three that stick in my head: Secretariat's Belmont, Rags to Riches' Belmont, and Zenyatta's 09 BC).

And what a great turn-out for Hollywood Park! I hope that her legacy, as much as leaving a record 17-0 in her wake, is helping that racetrack stay alive one more season.

Bring on the boys. :)

As an afterthought, I think it's unfair to Pepper's Pride to say that Zenyatta now has the most wins of any modern Thoroughbred, just because someone feels like state-bred company is inferior. 19 in a row is -still- 19 in a row, and no matter what way you want to spin it, it's a very -very- special feat. Is it as special as Zenyatta? No, of course not. But it is still the record, and to just 'pooh pooh' Pepper's Pride because she only ran against state-breds is very unsportsmanlike.
AHHH Why you DO that to me, Zenyatta!? Scare me half to death, going so wide and letting St. Trinians get the jump on you like that!

As much as I dislike her connections, I do like Calvin and I do like the horse. She was a shot in the arm for racing last year, and if she wasn't so badly mismanaged and treated like one big publicity stunt by her owner, I would wholeheartedly be cheering for her to return to form.
Well, now that Rachel has thoroughly demoralized a gang of Gr. II fillies and mares, the Alexandra camp can breathe a heavy sigh of relief. I would have been very surprised if she didn't put them away, as they went though very easy fractions and there was no traffic to contest. It gave Calvin 4 wins for the day at Churchill, which is pretty rare in itself. :) I'm still not convinced she's 100%, she was all over the track through the opening quarter mile and was looking all around both after the break and through the homestretch. Several times Borel had to pull her back towards the rail to keep her from drifting out. Glad to see her get a win, though. :)
After more than a year, I can finally change the header of this blog from "would-be-jockey" to "jockey-in-training." It was a pretty surreal two seconds of time. I no longer have to wistfully dream of the day I can officially change it to just "jockey." That day will come. :)
At the beginning of the year, I wrote that I was going to make this happen. To be truthful, I wasn't always (ever) that confident that those would be more than just words. But I didn't stop hoping, planning, or doing everything in my power to make them real. It's so incredible to know that the last year and a half of preparation, training, uprooting my life a couple times all to chase a dream-- all of it has paid off.
There are still a lot of important considerations in front of me that I can't just ignore. The money is still the biggest hurdle of this whole endeavor. Even if I'm officially accepted, if I can't find a way to -pay- for school (remember
this post
?) then no amount of ability or wishing will make it happen. I'm trying to find time and funds to drive back down to Kentucky with my mother in July to look at housing options, if there's no student housing available. Also trying to see if I can transfer my current job to one of the Lexington stores, so I'll have some income right away when I get there.
BUT ENOUGH WORRYING. Right now, let's just enjoy the pictures I'm finally getting around to uploading from my interview trip!
...I guess mousing over doesn't work for the descriptions, so I'll write them below.
(
LOTS of BIG pictures behind the cut!
Collapse
)

Thanks again, everyone. It's been a hell of a ride so far-- I hope you'll all continue to join me for the real fun to come. :)
First, I wanted to say a deep, heartfelt 'thank you' to everyone that reads this blog. After more than a year of writing here (and a lifetime of wishing), to know that people are with me, even over the vastness of the internet, who are so supportive and encouraging... that means a lot to me, you guys are awesome.